Setting the scene with the ultimate folding electric wheelchair. Your Jazzy Passport adventure starts when you do, even if that means an early morning flight or train ride. Navigate terminals with ease using convenient features that only a folding electric wheelchair can provide. Never be late to the gate! These moments in a quiet terminal halfway between origin and destination make traveling memorable. You want to soak it all up, and your Jazzy Passport power chair takes you there. Jet set with confidence in the versatile design of your Jazzy Passport. It's extremely portable and folds neatly to be stowed away in a car trunk or, yes, on a plane. Folded, its dimensions are a compact 31″ x 23.5″ x 16″. It weighs just about 60 pounds depending on battery size. The Jazzy Passport power chair has a weight capacity of 250 pounds and a 3.6 mph maximum speed. Depending on your package choice, you can count on up to 11 miles on a single charge.
Click image below for video: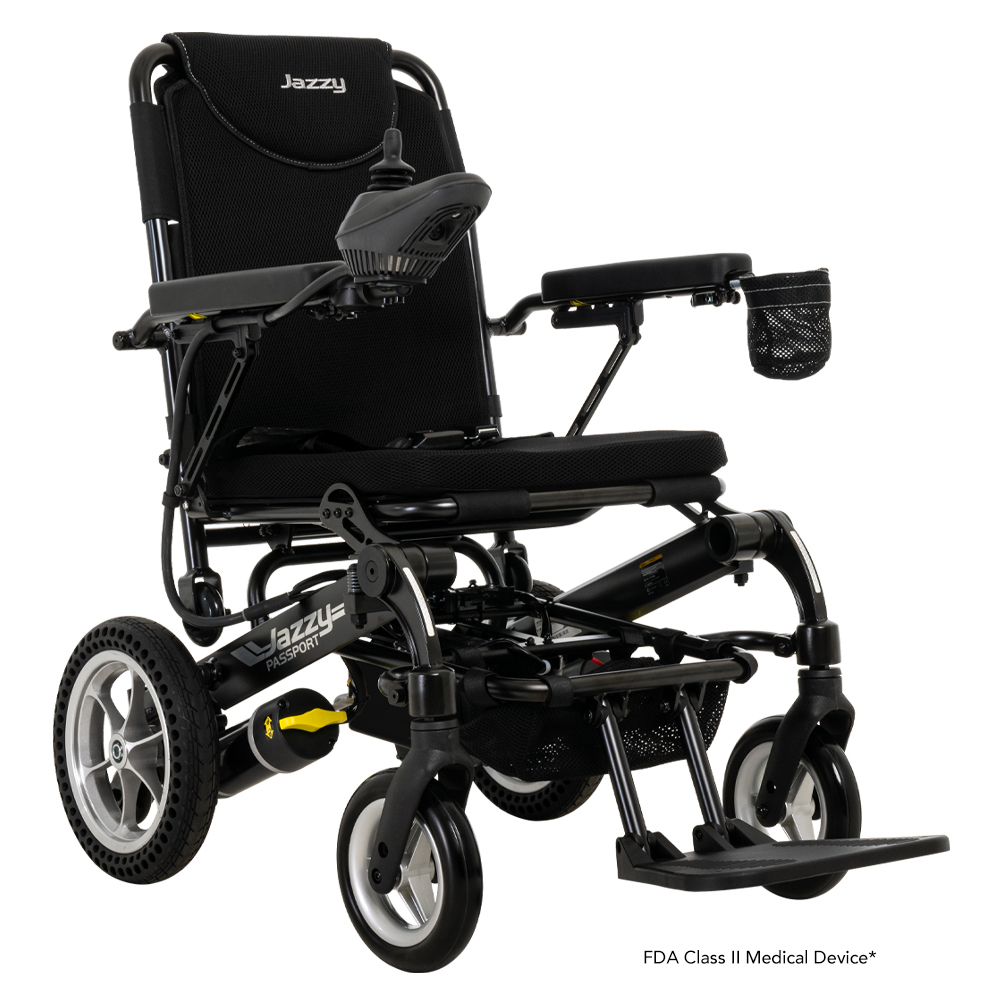 Jazzy® Passport Features:
250 lbs. weight capacity
Up to 3.6 mph maximum speed
Up to 8.6 miles (220 lbs.); up to 7.9 miles (250 lbs.)
Back seat pocket for extra storage while on-the-go
Easy-access free-wheel lever
A compact and lightweight design makes traveling a breeze
Folds in just a few simple steps for effortless transport
Includes convenient, under seat mesh storage bag, mesh cup holder and 40" lap belt
Large foot platform to accommodate the user's comfort
Specialty foam seat design for extreme comfort
Available with 18 AH lithium-ion air safe travel battery** (**Check with your airline before flying.)
Color Options
Tires
Drive Wheels: 11.25″ Perforated

Casters: 8″ Solid

Rear Wheels: 1.75″ anti-tips
Weight of Unit
Total Weight of Unit without Batteries: 59.5 lbs.
Size
Weight Capacity: 250 lbs.

Ground Clearance: 3″ at Motor

Turning Radius: 24.25″

Length: 40″ with Footplate

Width: 23.5″